What Is a Tunic Top? How to Wear Them +10 Tips
Tunic tops were one of the biggest fashion trends of 2022 and it doesn't look like that's going to change in 2023.
Why?
Because tunics are super comfortable, come in countless styles, and can be extremely affordable, too.
So, while you may have a fashion sense that is 100% unique, this is one fun fashion trend that you'll probably still love.
What Is a Tunic Top?
A tunic is top that drapes from your shoulder down to below your hips but not further than your knees.
So, as the name suggests, it's definitely a top, but it's almost a dress, too.
While the garment may make you think of ancient Rome or Greece, tunics have become extremely popular again in recent years. Unlike their historical predecessors, modern tunic tops come in a wide range of materials and colors, so there's something for everyone.
Is a Tunic Top a Dress or a Shirt?
As we just touched on, there's sometimes a little confusion around what exactly a tunic is.
For example, is a tunic top a shirt or a dress?
Well, as we mentioned, it's a little bit of both.
If it's a bit longer, you could definitely wear a tunic as a dress, though that same garment could also be paired with shorts or pants. We'll delve into much more detail about styling your tunic in just a moment.
On the other hand, if it's on the shorter side, you'll probably want to wear you tunic more like a shirt with a bottom to match.
Is a Tunic Top a Blouse?
Tunics are definitely not blouses, though.
That's because a blouse generally stops at the waist and a tunic never does. You could think of a tunic as a long blouse, though, which can also give you ideas for how to style it (but, again, we'll talk about that more in just a second).
How to Wear a Tunic Top
As promised, let's now jump into how to wear your tunic, so it looks great and fits your own personal style.
First, where do you plan on wearing a tunic?
If you plan on going to a dressier, more formal occasion, you can still wear one. You'd just want to choose a tunic with a keyhole or split neckline and probably made from silky cotton.
On the other hand, you can definitely wear all kinds of tunics for more casual occasions. Look for options with a scoop neck or a more conventional crewneck. boho fashion, there are plenty of tunic tops that would fall under vintage, minimalist, chic, streetwear, and much more.
As you're about to see, if you regularly wear jeans, skirts, or casual shorts, you'll have no problem finding a tunic that matches.
What Do You Wear with a Tunic Tops? 10 Clothing Items That Pair with Tunics
So, let's get right into the other clothing items you can pair with tunic tops to achieve the best possible look – and one that's unique to your personal style.
Here's a list of 10 clothing items to wear with your tunic tops.
1. A Fun Jacket
Tunic tops probably aren't going to be a great choice for colder days, but you can definitely pair it with the right jacket for a look that will look great and keep you warm.
Denim jackets are a perfect example.
They can even make your tunic top look a bit dressier. Put on a nice pair of jeans, some high heels, throw in some fun accessories, and you have a trendy look that will stand out for all the right reasons.
Leather jackets can be a great pairing, too. From the casual, longer scuba jackets to motos, this is another fun option for dressing up your tunic top a bit during cooler months.
If you choose a monochromatic tunic, play with jackets that have fun patterns. For example, a good plaid coat can make for a fantastic pairing.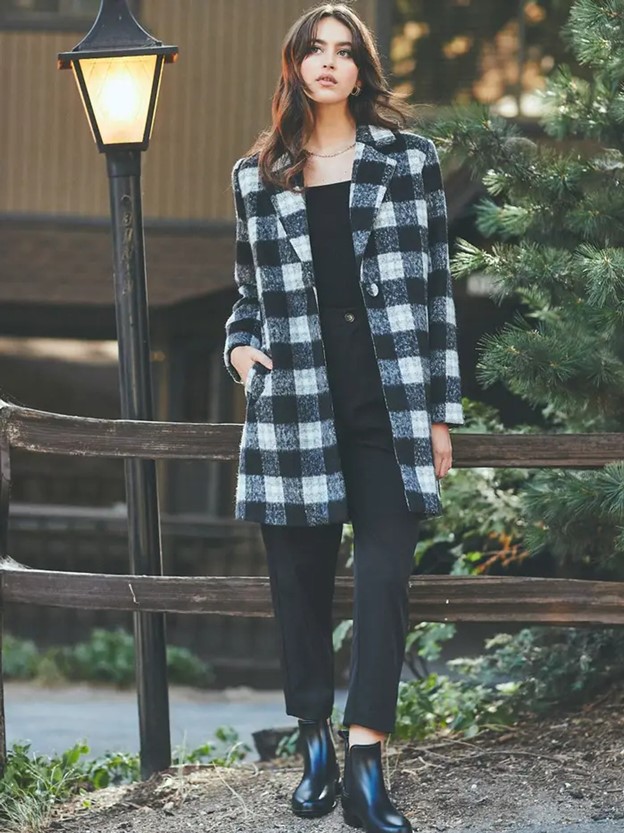 One of our Plaid Single Self Button Coats .
2. Add a Scarf
Another fashionable way to stay warm while wearing a tunic top is the simple scarf.
Of course, there are countless stylish scarfs out there that are anything but simple.
A good lightweight scarf can also be a fun accessory to wear with a tunic even in the summer months. Multicolor scarves with black tops are always a reliable look and tunics are no exception.
3. Cardigans
Cardigans are back in a big way in 2023 and they look even better when you wear them over a tunic.
A simple cardigan layered over a minimalist tunic is a winning look. Many women have begun wearing the pairing to the workplace, but cardigans can look great over a tunic in casual settings, too.
While blazers are a bit dressier, they've also become a popular pairing for tunics in 2023.
4. A Belt
You can always wear a belt under your tunic where no one will see it, but a lot of women are adding new dimensions to their tunic tops by wearing their belts over them, so it becomes a much more visible accessory.
Skinny and wide belts are both acceptable options here. It just depends on your personal style.
Large belts are great for accentuating your waste. Wear them right over your stomach as opposed to loose across the hips.
Skinny belts are fantastic for cardigans, dresses, and yes, even tunics.
In either case, a simple black or brown option is probably best, but you don't necessarily need to avoid other colors. Stylish belt buckles can work well, too.
5. Jeans
Jeans are probably the most common pairing with tunic tops.
A lot of women have begun adding tunics to their favorite pair of designer jeans. Add some heels and you're ready for a night on the town.
But there's no requirement that you spend a fortune on jeans to wear them with a tunic. Vintage and casual options with flats or even tennis shoes can be a lot of fun, too.
Just one word of advice: avoid denim tunics if you're going to wear jeans with them.
That's just too much denim.
There's a limit.
6. Leggings
Now, if you want to get REALLY casual, throw on a pair of leggings with your new tunic.
That's about as comfortable as it gets. Plus, wearing a tunic will add just a touch of sophistication to your favorite pair of leggings compared to your typical t-shirt or hoodie.
Obviously, an equally comfortable, casual tunic is probably the best choice to wear with leggings, but feel free to push the limits of your personal style to find the combination that works best for you.
7. Skirts
Skirts and tunics are natural pairings.
Both can be dressed up or dressed down depending on the occasion.
But no matter what direction you decide to go with the two, there are countless options out there that look good together. Pleated skirts, maxi skirts, and hem skirts all work perfectly with tunic tops.
Flowy skirts probably make the most sense given how loose and flowy tunics tend to be, too.
Pencil skirts or mini skirts might be a tougher pairing, but give it a shot and let us know how the finished product looks!
8. Capris
Spring and summer are perfect capri weather.
This year, try wearing yours with a matching tunic.
Capris leggings are super popular these days, too, which for many women is the perfect combination of comfort and style. Add a tunic to a pair of capris leggings and you'll enjoy even more fashion points with this comfy combination.
9. Shorts and Skorts
Speaking of the warmer months, shorts and skorts are always a good choice and, once again, you can add some extra style points to yours by wearing a tunic top with them.
Short tunic topics work great with these equally short clothing items, too. Longer ones might make a little more sense in spring and as you get into fall, but a shorter tunic with the sleeves rolled up high (or none at all) will help fight the heat during July and August.
10. Shoes
Finally, let's talk about your footwear.
Once again, you have a wide array of options when it comes to shoes (or sandals) to wear with tunic tops. It all comes down to what kind of look you're going for.
As we've touched on a couple of times, you can definitely wear stylish heels with tunics. You probably just want to pick an equally fashionable pair of pants if you do. Wedges can be equally stylish and give you a little more leeway when it comes to formal pants.
Dress boots, Chelsea boots, ankle boots, and wedge boots can also be worn for a fun middle ground between dressy and casual with your tunic tops.
Otherwise, everything from tennis shoes to sandals can work perfectly fine with your tunics. Shorts, skorts, and flowy skirts are all perfect options for this kind of casual footwear.
Choosing the Best Tunic According to Body Type
At the end of the day, if you're comfortable, wear whatever you want.
But a lot of women wonder if wearing tunic tops makes sense for their specific body types.
Fortunately, tunic tops may be one of the most accommodating and flattering pieces of clothing out there.
Let's take a look at some tips for wearing tunic tops depending on your body type.
Apple or Pear Body Type
If you have an apple or pear shape body type , your bust and waist are probably about the same size.
You can absolutely flatter this look by "elongating" your body with a tunic that falls down below the hips. A wrap-style tunic is one of the best choices for this fantastic effect.
V-neck tunics are very popular with women of every body type, too. Their style draws rounder shoulders in a bit, which can create a very pleasing look.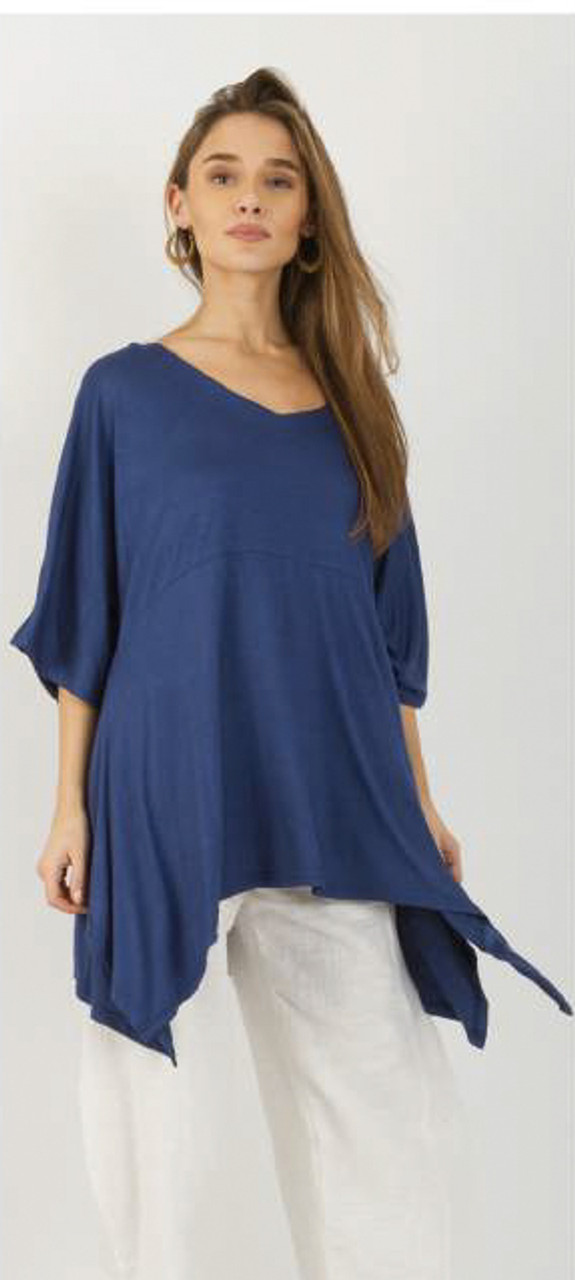 Rectangular Body Type
Want some curves?
If you have a more rectangular body shape, V-neck tunics are once again a fantastic option. Wrap-style tunics will work well, too. They give the look of a cinched waistline.
Hourglass Body Type
If you have a bust and hip measurements that are larger than your waist, a fitted tunic will be a fantastic addition to your closet.
V-necks are another good option for this body type, but consider scoop-neck tunics, too.
Fitted tunics also come in a wide range of fabrics, as well. You can wear one made with spandex for a fitted look that goes great with leggings or something like stitched sweater tunics for the cooler months.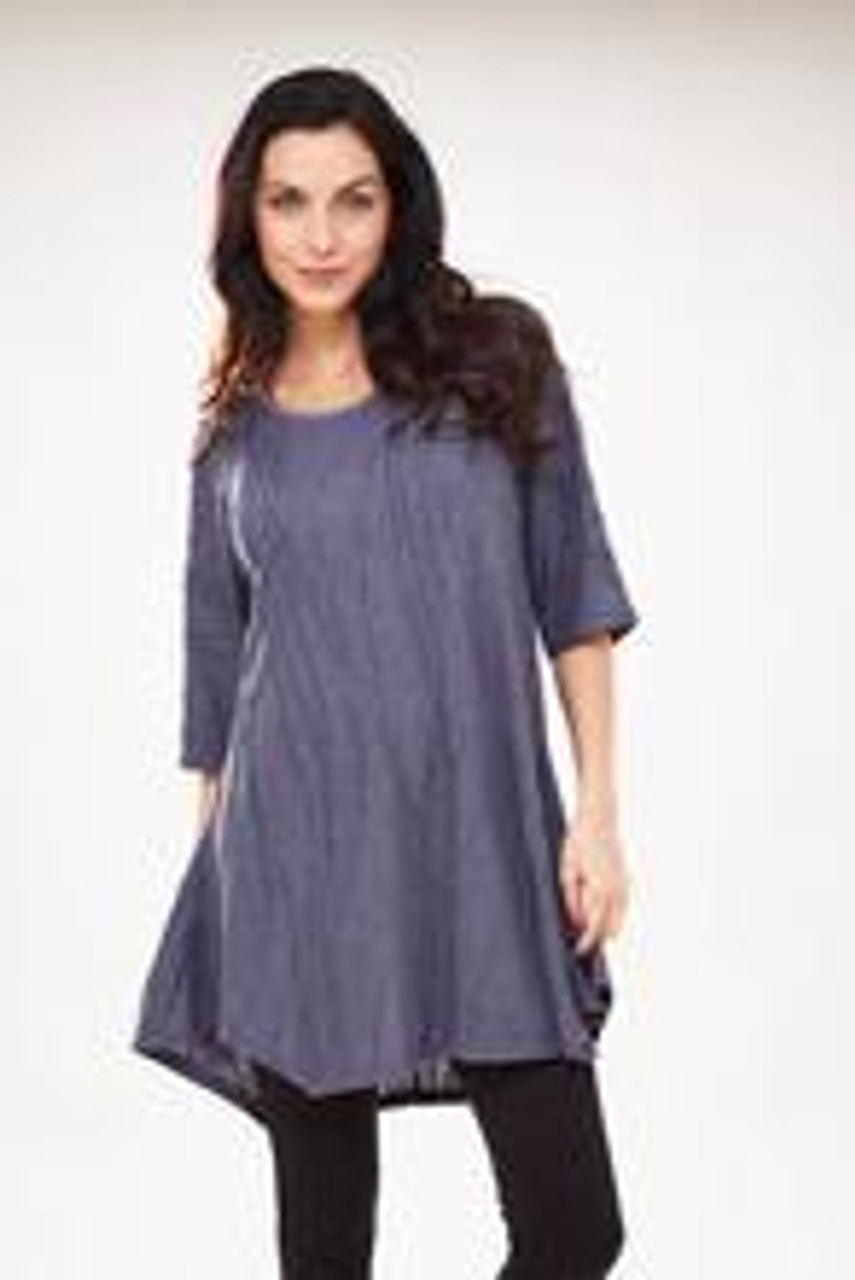 Petite
Petite body types should choose equally petite tunics. This is already a clothing item that fits rather loosely, so if you try choosing a tunic top that's a size bigger because you think it'll be more comfortable, you might end up swimming in it.
And if you want more coverage, there is no lack of options out there, either. Turtleneck tunics should be a stable of your wardrobe in the fall. Pullover tunics that are akin to sweaters are perfect for colder months, too.
Best Fabrics for Tunic Tops
Traditionally, tunics were made from linen.
And while that's definitely a super comfortable material, modern tunic tops come in almost every material under the sun.
We touched on Supima cotton before, but that's definitely one of the most popular fabrics for tunics right now. That's because it feels great but is also extremely durable, so you don't have to worry about your new favorite clothing item pilling up or falling apart after just a few times wearing it. If anything, it actually gets softer with every wash.
Other cotton blends can also be great. Many of them are very affordable, too.
Blends of cotton and modal are perfect for tunics you want to wear on dressier occasions. They provide a smooth, silky look and feel even better.
Cotton and polyester is a popular blend, as well. They're super soft, super durable, and tend to make for pretty inexpensive tunics.
Of course, nylon is always a good material. It'll give you that stretchy, comfortable feel that is perfect when worn with leggings.
For tunics that will help keep you warm, consider flannel tunics. They usually run a bit bigger, which makes for a really cozy piece of clothing to wear on colder days.
Tunic Colors and Prints
There are a ton of fabrics and materials to choose from for tunic tops, but in terms of colors and patterns, your options are literally unlimited.
Whether you want to wear them with jeans, shorts, skirts, leggings – whatever the case, there are plenty of colors and prints that can dress up or dress down any of these clothing items and match your personal style.
Of course, if the bottoms you're wearing have a print or specific color, the safest option is to always choose a black or white tunic or at least one with a solid color.
Otherwise, white, black, brown, and grays have long been the most popular colors for tunics, but that seems to be changing.
As more and more women have added tunic tops to their wardrobes, we've seen a much greater range of colors become commonplace, too.
According to InStyle, the big colors for this spring will be:
Robbin Eggs Blue
Lavender
All Unconventional Blues
Pastel Pink
Teal
Blood Orange
Any shade of green is also going to be popular.
We've already seen a lot of tunic tops made in these colors, but we expect we'll see even more this spring and probably the rest of the year, as well.
So, don't think that tunic tops have to resemble the colors available in ancient Rome. Have fun with yours and explore every color under the rainbow to find the right shades for your unique fashion sense.
Embrace the Fun and Freedom of Tunic Tops
As you've just seen, there's never a bad time to wear a tunic top.
Well…there may be a few occasions.
But by and large, the tunic top can be dressed up a million different ways or worn with casual clothing for maximum comfort.
Best of all, tunics are a perfect clothing item for customizing, so they reflect your unique personality.